Disclosure: I was not compensated for this post in any way. I was however given two race entries that I have opted to give away to my readers!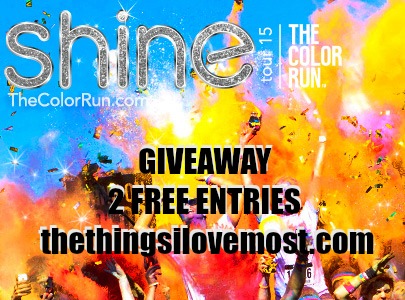 Have you ever ran The Color Run?
It's a race I have on my bucket list to run this next year! If you don't know what The Color Run is you can read more about it HERE.  It's known as the Happiest 5k on the Planet! So why wouldn't you want to run it? 🙂 It's a a unique paint race that celebrates health and happiness! Plus the color run is all about supporting charities in each area they host!
Now the single largest event series in the world, The Color Run has exploded since their debut event. They hosted more than 300 events in 50+ countries in 2014. So it's a pretty popular race. If you want to jump on the fun race bandwagon, this is one to jump on!! What can be more fun then running with thousands of people all wearing white and being painted with color, getting exercise and smiling the whole time? It sounds like a fun race to me! The color run is adding a new element to the race this year, and it looks a lot like this…
Sparkles?  That will be cool!!
To see if The Color Run is coming to your area check HERE to see a complete list of the events. When you look at the even list you will see that some events are open for registration and others that are later in the year aren't open yet and offer pre-reigistarion as a VIP.  VIPs will be the first to know dates PLUS get exclusive pre-sale pricing. So you will be first in line to know when it opens!
And look at all the fun stuff you get when you register…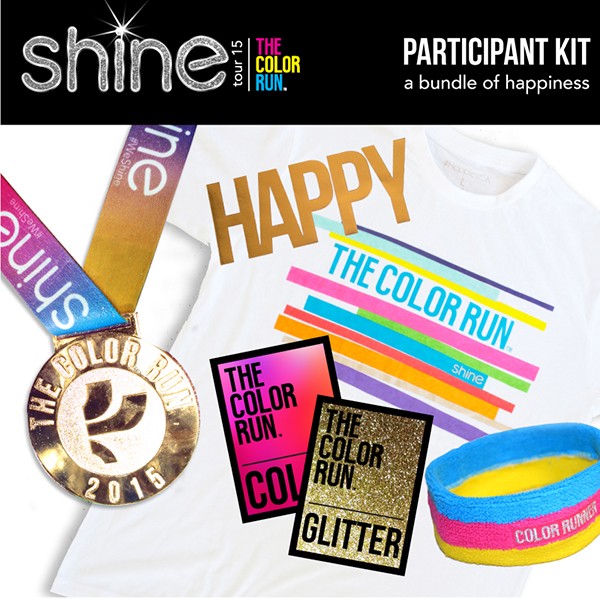 Everyone in 2015 will receive a limited edition Shine Tour Participant Kit, including: custom race tee, gold finisher's medal, tricolor headband w/ silver stitching, brand-new shine packet, and shiny tattoos.
Feel free to use the code below to save money when you register for The Color Run. The code expires on February 15, 2015! I will put a new one up for the 16th.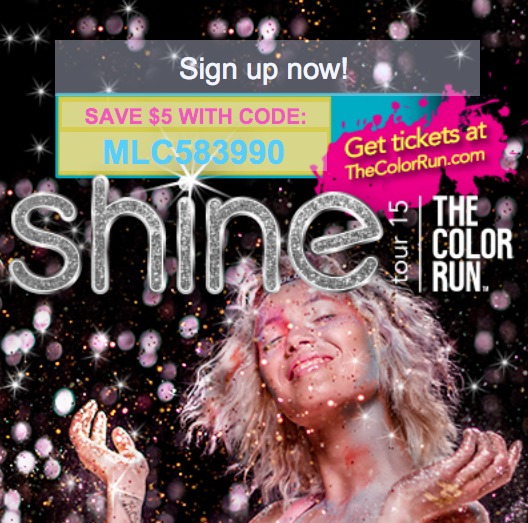 $5 OFF code will NOT work on newly launched cities. New launch prices are much better than what the $5 will save them when the price goes up.
Now it's time to giveaway 2 entries to one of my lucky readers!  I have two entries, but who likes running alone?  I don't!  So I will pick one winner to pick the location that they want to register for! Please note that the event of your choice must be at least two weeks out from the contest end date in order for you to participate in that event and the giveaway is valid for dates in the continental US only.