I am so excited for this Mother's Day Favorite Things Giveaway. I have joined in with 9 other bloggers who are each doing their own separate giveaway with a basket of their favorite things! Each blogger came up with a list of things they would want in a gift basket for mother's day. So once you enter my giveaway, head over to the next blog on the list and enter!!
Mother's Day Favorite Things Giveaway Basket

Here is what you will win…
HYDAWAY WATER BOTTLE– I blogged about this awesome fold down water bottle last week HERE. They aren't even on the market yet. In fact they are still on Kickstarter! The HYDAWAY collapsible water bottle is a handy alternative to disposable plastic water bottles – it folds down easily to fit in almost any pocket!
Cinnamon Bears – They might even be chocolate covered, because the package in the picture has already been consumed by me. I can't go a day of having Sweets brand Cinnamon Bears in my house with out eating them!
$25 Amazon Gift Card – I LOVE amazon. Ever since I moved out of town about 20 miles, I love ordering stuff on Amazon! So much easier than driving to the store and wondering around!
Real Moms: Making It Up As We Go
– I wrote a post about how I think every mom needs to read this book! Deseret Book offered to give one to one of my readers for this mother's day giveaway! If you don't win the basket, you still need to buy the book! It is that good!!
Scrub Daddy
– I saw the scrub daddy on shark tank a while back. This dish scrubber is awesome!! Go read about it here on their website! It really is the best mulit purpose scrubber ever! It doesn't stink, it gets from in cool water, and soft in hard water, and it won't scratch your pans!
If I Could Keep You Little
– My friend gave me this same book a couple of years ago because she know how much I want my kids to stay little! I think she was trying to help me get over my issuer, which I never will, but it is such a sweet book. I love reading it to my boys!If I Could Keep You Little speaks straight to every parent's heart, exploring the powerful feeling of wanting your child to grow up while savoring every moment.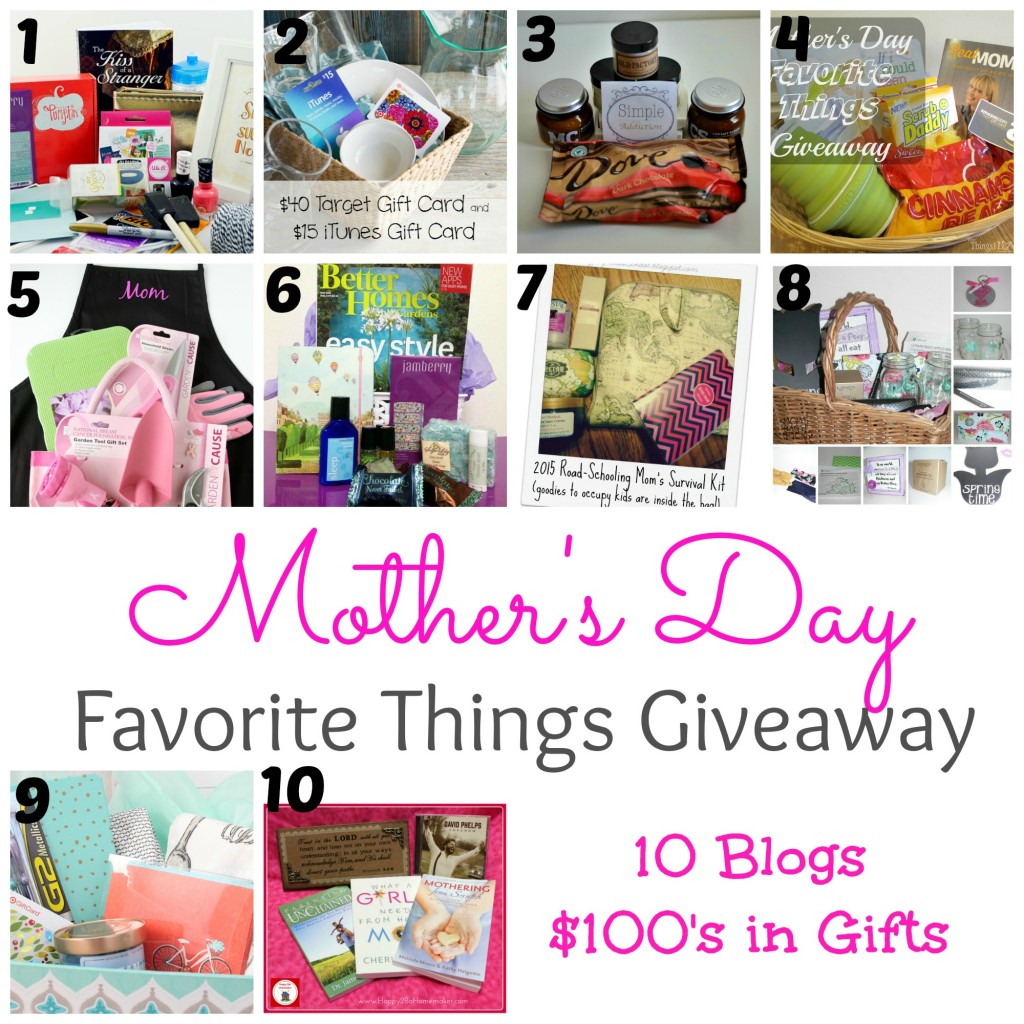 1- My Daylights 2- Eat It & Say Yum 3- Tastefully Frugal 4- The Things I Love Most 5- Bite of Delight and Western Gardens
6- Home Crafts by Ali 7- Gypsy Road School 8- Mom's Bag of Tricks 9- Honest Harm 10- Happy 2BA Homemaker
So head on over and enter my mother's Day Favorite Things Giveaway and then click on the other links and enter the other 9 bloggers!
Eligibility and Rules: This giveaway runs from Sunday, April 20th, 2015 at 6:00 AM MST to Tuesday, April 28th, 2015 at 12:00 PM MST. This giveaway is open to individuals 18 and older. The winner will be chosen randomly through the Rafflecopter form. It is the sole responsibility of the winner to report to and adhere to all laws in their respective country, which includes payments to any governing tax body. This giveaway is void in any country or territory where it is prohibited by law.

Disclosure: This is a blogger-sponsored event that is in no way affiliated with PayPal, Facebook, Twitter, Pinterest, Instagram or any other social media channel.