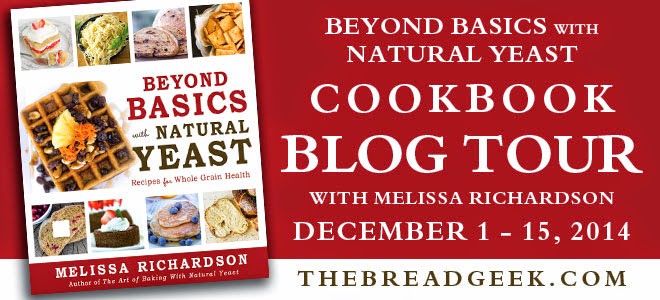 Last year I took a class from the super talented, very educated, Melissa Richardson, also known as The Bread Geek, about baking with Natural Yeast.  She already had a great cookbook out called,
The Art of Baking with Natural Yeast
 which I found very fascinating.  The book is all about using Natural Yeast, and why it is better for you!  It also has some great recipes to get you started using it.  I started to use it and really liked it.  I liked the bread, but I really liked the chocolate cake!  My summer got really busy and my starter died, and I stopped making stuff.  I also wished she had more recipes that I could try.  I was so excited when I heard she was creating a second book!  She just recently came out with it, and I received a copy to review.  The book is called 
Beyond Basics with Natural Yeast
! The recipes in the book look wonderful. The thing I love the most about this cook book is that each recipe has a picture to go with it. I am a visual cooker! I have to see it, to want to make it!  I just got my stater,  and I am going to keep it alive this time!!  It's really not that hard, In-fact in only takes about 3 minutes every 3-4 days.  I will let you know what I make first!  I'm thinking it just might be waffles! They are so yummy! If you want to know more about this book, check out here post
HERE
where she has a video explaining the book in great detail!
So what is "Natural Yeast"?  Melissa explains it as,
"
A mixture of flour and water that houses an entire ecosystem of beneficial bacteria and yeasts."
I'm am not very good with words when it come to explaining the scientific stuff about the benefits of using Natural Yeast.  When I went to her class
this
is how she explained it to us, and it makes since. She also said, and although she did clarify that she isn't a doctor, and can't say she cures things, that a lot of the rise in issues with wheat started right around the same time we stopped using Natural Yeast (what our pioneer ancestors used) and started using commercial stuff.  Natural Yeast helps make wheat easier to digest.  I'm not an expert, but you can read more about it
here
.

Here is a little more info about the book and the author behind it…
About the Book: With allergies to commercial yeast on the rise, natural yeast is the easy and healthy solution to baking all the foods you love. Brush up on your techniques with Melissa Richardson's newest book, Beyond Basics with Natural Yeast, with mouthwatering recipes like Soft Pretzel Rolls, Honey Whole Wheat Bread, and Lemon Chiffon Cake. Say goodbye to commercial yeast, and hello to a healthier body!
About the author: Melissa Richardson is a mother of three who is addicted to researching, studying, and baking bread. As a college student Melissa taught herself to bake as a way to pinch pennies from the food budget and unleashed a passion that transformed her into The Bread Geek she is today. At any given time of day, flour can be found somewhere on her shoes, clothes, hands, or children. When not baking or writing, she enjoys collecting hobbies and spending time outdoors with her family.