Today I am here to tell you about another great book by Nancy Campbell Allen called The Secret of the India Orchid! I have loved all of her books. They are all so different, but all so wonderful! I have read a few of her other Proper Romances, and even some of her historical fiction and she is just amazingly talented. I love that this one is set in India and not your typical England setting.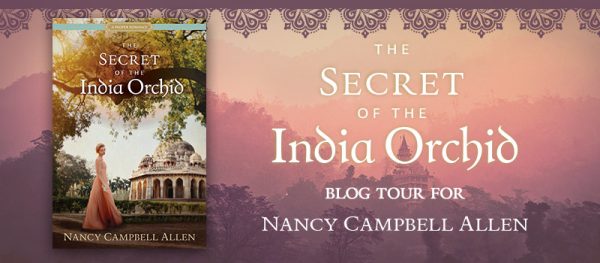 About the Book
Anthony Blake is in love with his best friend's sister, Sophia Elliot. But his plans to court her are put on hold when he is forced to resume his role as an undercover spy for the Crown. A secret document listing the names of the entire network of British spies—including his own—has been stolen. To protect Sophia, Anthony cuts off all ties to her and exchanges his life as an honorable earl for the façade of a flirtatious playboy.
Heartbroken and confused, Sophia travels to India, hoping to find healing in one of the most exotic regions of the British Empire. But the exotic land isn't as restful as she had hoped. Instead, she finds herself embroiled in a mystery of a missing sea captain, a possible murder, and a plot that could involve the prince of India. And when Anthony appears at the British Residency, asking questions and keeping his distance from her, she is stunned.
She still loves him, and, in her heart, she knows he loves hertoo. But how can she rebuild her relationship with him if he won't confide in her? Does she dare offer her heart to him a second time, or will their love be lost under the India sun?
About the Author
Nancy Campbell Allen (N.C. Allen) is the author of twelve published novels, which span genres from contemporary romantic suspense to historical fiction. In 2005 , her work won the Utah Best of State award. She has presented at numerous writing conferences and events since her first book was released in 1999. Nancy received a BS in Elementary Education from Weber State University. She loves to read, write, travel and research, and enjoys spending time laughing with family and friends. She is married and the mother of three children.