When I was a teenager I knew my main goal in life was to get married and have a family. In the LDS Church 18 year old boys are encouraged to go on a mission, and now girls at 19 can go instead of having to be 21. Growing up I didn't have a big desire to serve a mission. I wanted to go to college and get married and start a family by the time I was 21. Back then, oh that sounds old to say, a lot of girls didn't go on a mission so I felt like I was ok not going. My older sister served a mission when she was 21 and it was wonderful for her. After getting married and having children there have been so many times that I have wished I served a mission and learn the skills and principals at a younger age that these amazing missionaries come home with. Having one daughter and four sons that all have the desire to serve a mission one day, I want to know how to best prepare them. I also have a very strong desire to be a missionary in my own community and to one day serve a couple mission with my husband.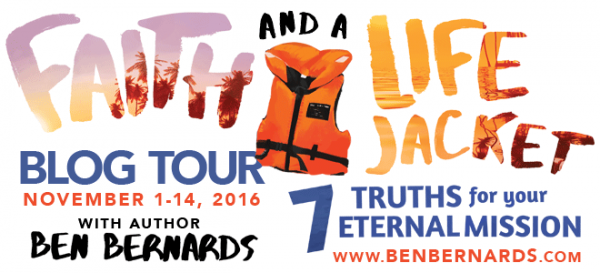 I recently received a wonderful book called Faith and a Life Jacket – 7 Truths for your Eternal Mission by Ben Bernards. The book is a great missionary preparation book, but the principles also apply to regular everyday life. Each chapter goes through a different truth about missionary work, whether it's your mission in life, or while serving in the LDS mission away from home. An example of one of the principles is that timing is everything, and it's in God's hands. That's a principle I know is true in all our lives. As a mother and wife I find that I have to to be willing to accept God's timing. The book is written with his experiences from his mission to Fiji. It is filled with amazing stories to help us understand these seven truths on a deeper level. In the book he said, "As I came to understand of these truths and how they interacted with each other, I realized that not only would they help me through the difficulty of missionary life but they would anchor me through any trial I would face, for any point in my life to come."
The book is definitely a great missionary preparation book for teens, in fact I told my daughter she should read it even though she won't serve a mission for at least 6 years. The story is filled with amazing faith-filled stories. One in particular about a rainstorm and a concert was our favorite. I read it to my children and after I finish reading it the room went silent and then my son just said, "Wow!". Whether you or your child serve a mission or not, this book is a great book to teach seven great principles that are important to understand in life. This book is a fast read and is perfect for those preparing to serve a mission, but also wonderful for anyone. Ben Bernards is a creative and fun writer. With his way to tell a fun story and then share a spiritual experience he will have you laughing and then crying and then laughing again!. I recommend it for anyone! It would also make a great family home evening book. You could teach a principle each week and talk about that principle while using stories from the book!
Faith and a Life Jacket: 7 Truths for Your Eternal Mission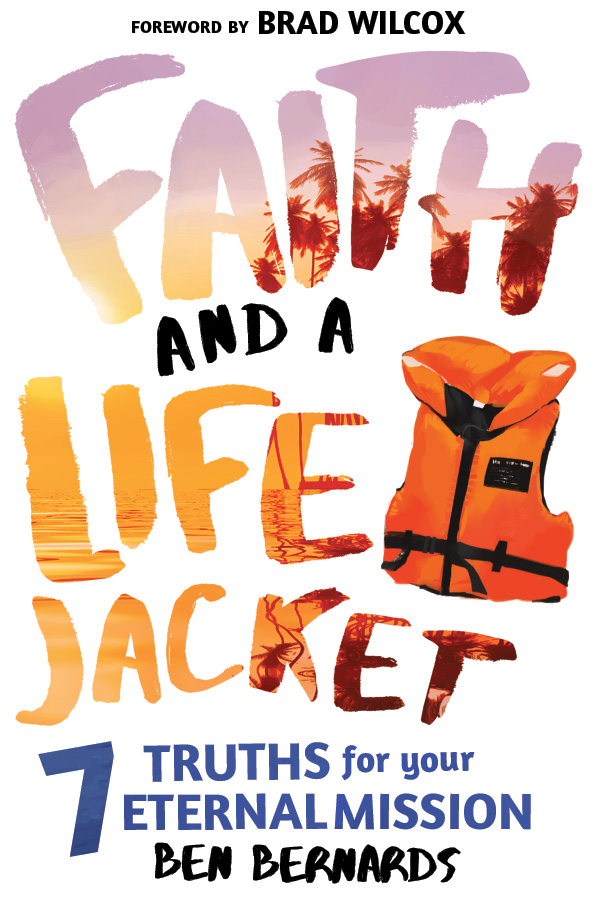 About the book:
Don't just be prepared–be prepared well. Ben Bernards, popular youth speaker, presents this adventurous book of seven guiding rules and lessons to help train a new generation of missionaries. These invaluable lessons, from God's measure of success to unexpected difficulties in the field, will apply to any missionary's call, readying them for the great and challenging experiences of the Lord's work..
About the author:
Ben Bernards grew up in a big Mormon family in a small farming town in the heart of Utah County where he and his eight brothers and sisters were raised on a steady diet of Nintendo, Transformers, Dungeons & Dragons, and Star Wars. He geeks out on all that plus everything marching band, Marvel, and Tolkien (his autographed edition of Lord of the Rings is pretty much the coolest.)
He loves teaching youth the Gospel of Jesus Christ, whether it be in Seminary, Sunday School, at youth conferences or EFY. He served a mission on the Fiji Islands where he survived cyclones, rampaging natives, and swarms of giant bats while living in a hut in the jungle. (He still hasn't convinced his wife to go back and visit.)
"Faith and a Life Jacket" blog tour schedule:
November 1: LDS & Lovin' It
November 2: Christy Monson Books
November 3: Read for Your Future
November 4: My Book a Day
November 5: Brooklyn Jolley | The Things I Love Most
November 6: Pixx Digital Media
November 7: Laura Walker
November 8: Not Your Relief Society Book Club
November 9: The Power of One Girl
November 10: I Am a Reader | Mel's Shelves
November 11: Bookworm Lisa | Brookie Cowles
November 12: Katie's Clean Book Collection | Singing Librarian Books
November 13: Rockin' Book Reviews | Reidhead Random-ness
November 14: My Little Sunshines | Fire and Ice