Oh My Stars, I am so excited to tell you about our family trip! We just got back from a family reunion up at Bear Lake, in Northern Utah/ Idaho, and I want to go back….NOW! I have lived in Utah my whole life and haven't ever been to Bear Lake. Now I wish I could be there all summer. Today I thought I would share with you some tips on how to have the perfect Bear Lake family vacation.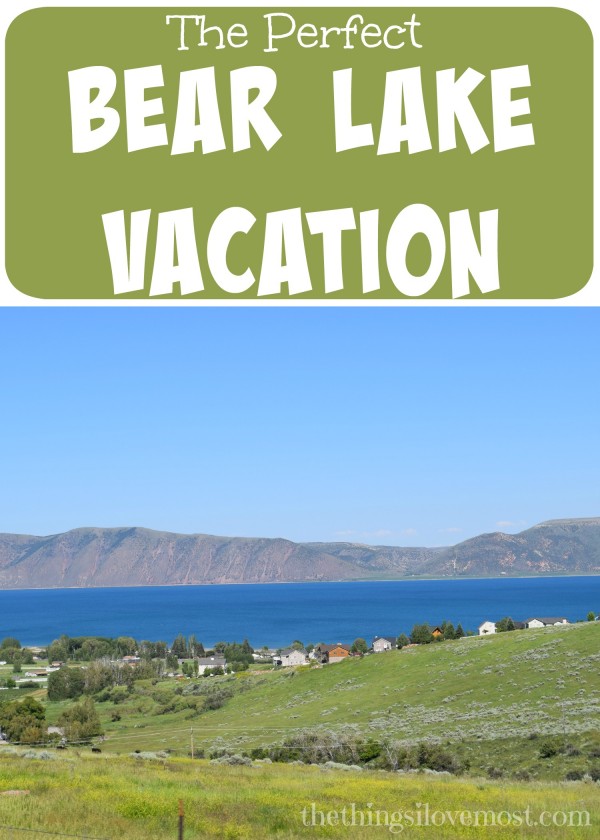 The Perfect Bear Lake Family Vacation
Our Bear Lake family vacation was a vacation with 32 people, you might not think that is much of a vacation, but my family rocks and we had a blast together! My side of the family has been trying to plan a reunion for a while now. My brother was in charge and after voting on a whole bunch of places to go we decided to stay in Utah and do our first ever Bear Lake Family Vacation.
Places to Stay:
There are a lot of options for places to stay in the Bear Lake area. We used VRBO and rented a large lodge (house) in Garden City, which is the Utah side of Bear Lake, It was a pretty decent price and slept over 40 people! It's called Aspen Lodge and was perfect for our large family. The upstairs had tons of beds for the kids a game/movie room and it also had a hot tub on the main level!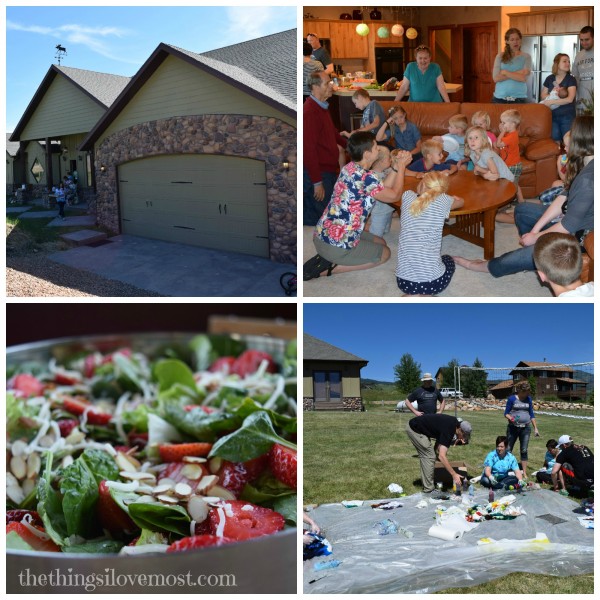 We had a blast, ate delicious food, played tons of games and tiedied matching shirts for all 32 of us!
Other options of places to stay are…
Motels / Hotels – HERE are some links to some of these places.
Camping – There are a couple of KOA's, also a Hot Springs and other great camping sites in the area.
Small Cabins – There was a campground with small cabins to rent in Garden City. It also had a really nice pool.
Other VRBO's – There are a lot of nice cabins or houses up there that people rent out.
Conestoga Ranch – A little "Glamping" is what this place is. It's brand new and looks like a really fun place to stay.
Things to do at Bear Lake
The first thing the guys did the first morning we got there was head out bright and early to the Bear Lake West Golf Course and enjoyed a 9 hole game.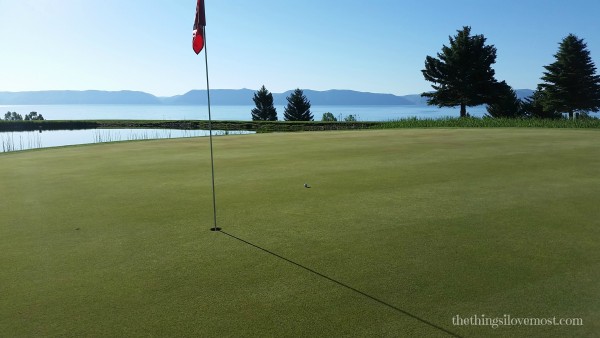 Bear Lake West Golf Course is in Fish Haven, Idaho, which was about a 10-15 minute drive from Garden City. It
was a great place for our husbands to spent their morning enjoying the beauty of Bear Lake, but also having fun playing a great game of golf! Brotherly bonding time! They came home and said that the views were amazing. They had a 7:00 Tee Time, so they got to see the sun come up over the lake. My husband said it was probably the most impressive scenery he has seen at a golf course in a long time. Visit the Bear Lake West Golf Course Website
HERE. I
t is a gorgeous 9 hole golf course that looks out over Bear Lake. They have everything you need fully stocked if you don't have room to pack your own clubs.
Obviously the next thing you are going to want to do in Bear Lake is go to the Lake. We aren't boat people. Never have been, sadly, but you can still have a ton of fun at Bear Lake playing on the beach. We headed up to North Beach in the early afternoon and played both days for 4-5 hours. The kids had a blast.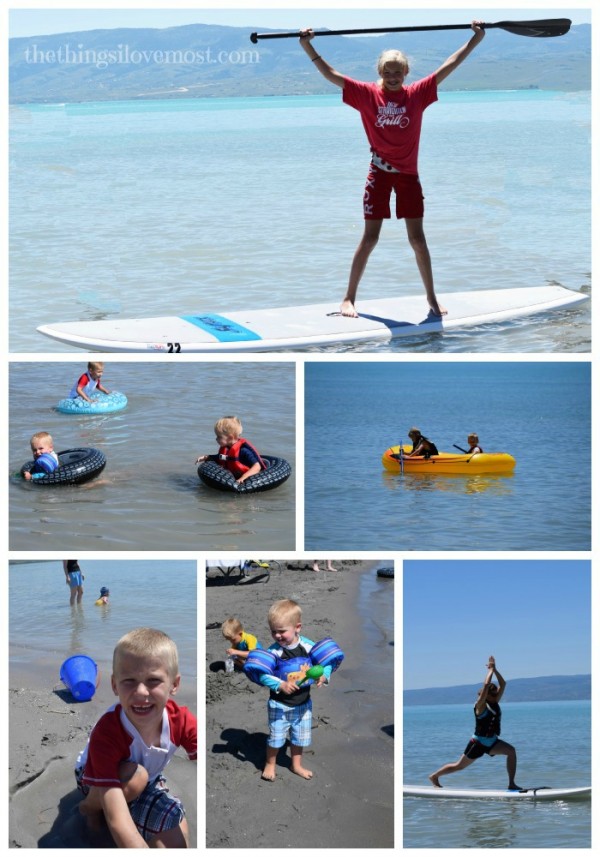 The water was really low, you could go out about 100+ yards and still touch, which was great with how many kids we had. They love playing on the beach, building sand castles, and getting dirty. They played a rousing game of Ultimate Frisbee in the water, while other just sat and soaked. My sister brought snorkels which I hadn't ever done, but could now do a lot more of because it is so relaxing and fun.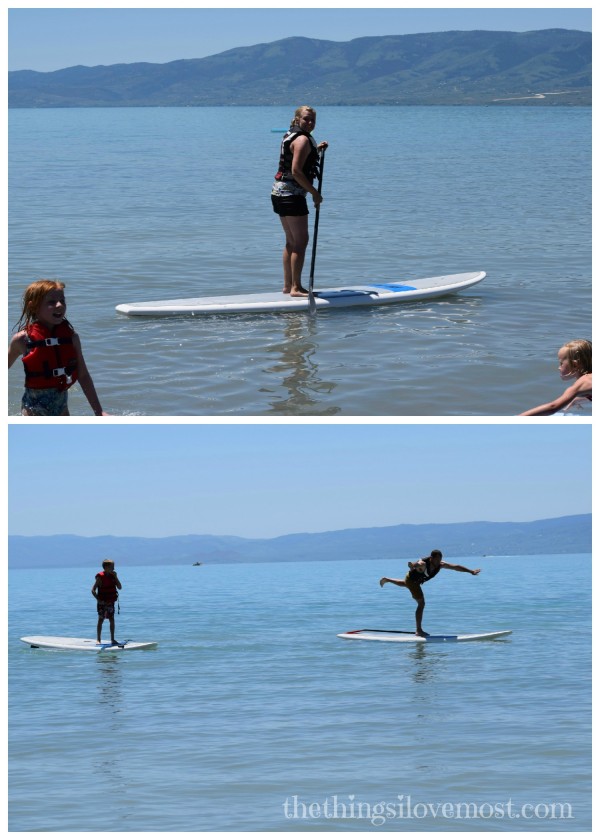 If you don't have a boat there are a lot of places you can rent boats, wave runners, and other fun water toys.We decided on day two to rent a couple of paddle boards. Now I want to buy one. It's an awesome feeling standing on the water rowing around peacefully!
Other things to do on your Bear Lake family vacation…
Renting Bikes – There was a fun place that had single, double and a 5 person bicycle to rent. It looked really fun.
Horseback Riding – There are a couple places around the area that rent out their horses to go on trail rides.
Hiking – There are a lot of hikes in the area. Head over to the Bear Lake information area and get a good map.
Eating Out – We didn't ever eat out. Since we stayed in a house we brought all our own food, but there were a lot of cute little places to eat on the main road.
Eat Raspberry Shakes – Bear lake is famous for their Raspberries, and I was told you HAVE to try them.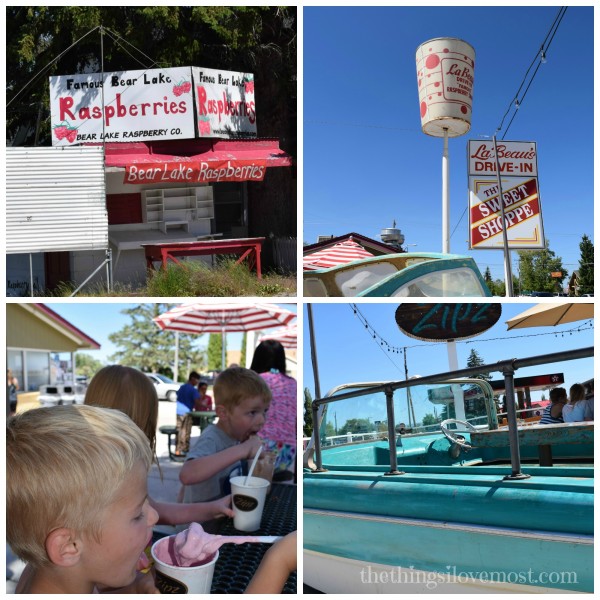 We asked a few locals what their favorite shake places was. They talked about Zipz and La Beaus. I decided to get a Raspberry shake from both places. Zipz has two different sizes so we got one smaller size for our smaller kids at Zipz and then bought the rest of our shakes at La Beaus. All the shake places are about $3.99-4.99 a shake. My favorite one was from Zipz, but everyone in my family that got their shakes from La Beaus loved their shakes, but Zipz won me over! Way better flavor.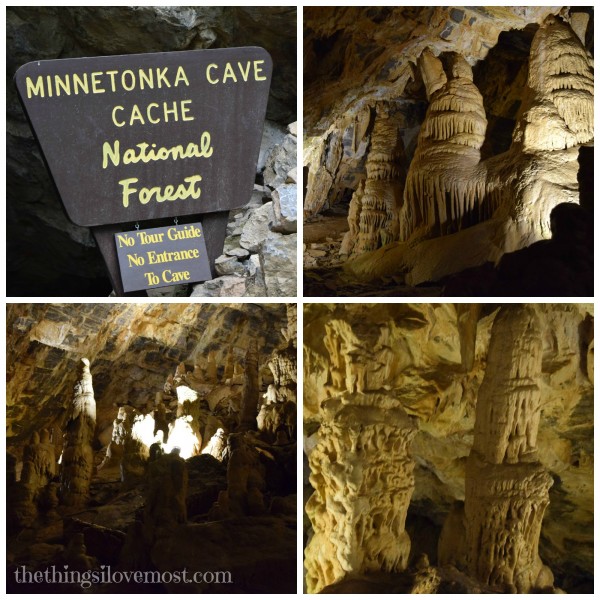 There are a lot of places to hike in the area. On the last day just my little family decided to head up to the Minnetonka Cave about 25 miles up the canyon. It was a gorgeous drive. It does cost to go through the cave, $8 for adults and $6 for children, but it was worth it to us. The wait was a little long so call ahead and get on a waiting list. We had to wait an hour to go through. With over 400+ stairs it wasn't the easiest with little kids, but they were fine and loved the came. It is an amazing place. It was found in the early 1900 by some guy just out hunting. Can you imagine finding something like this??? As you hike down it does get cold, so bring a jacket.
The other place we were going to head to was the Paris Ice caves, but we ran out of time.
The Bear Lake family vacation we took was amazing. I am so glad we took time off of work and life to head up there and enjoy a few days in this gorgeous place. I could have played at the beach a few more days and hiked around a lot more, but we had a great time and can't wait to go back again!
Are you planning a Bear Lake Family Vacation? Have you been to Bear Lake? What if your favorite thing to do there?
Golfing outside of Utah….Maybe Arizona? Check out this Player's Guide to Golf Courses if you are ever in the Arizona area, they look amazing!