I am up at girls camp this week and am so grateful for this wonderful guest post from Sharlene Habermeyer. She is amazing and I LOVE her book!
Hello, I'm Sharlene Habermeyer. Thanks for letting me guest post today
Kendra!
I am a mother of five boys and the author of
Good Music Brighter Children
.
Today I want to share with you why I wrote my book, and how music can impact how children learn and process information.
I was born with music in my heart. Growing up, whenever I heard music—either in nature or on the stereo—I always stopped to listen. To this day, birds are my favorite creation—why? Because they sing. I started taking piano lessons at age five and have continued through most of my life. My favorite piece of music is Beethoven's Violin Concerto in D. It has enveloped my being—totally and completely. Thank you Mr. Beethoven!
My husband and I played music for our sons when they were in
utero
. It was not a planned thing—my husband and I listened to classical music each day and so our sons in
utero
listened to it.  When our sons were born we started a tradition of playing music and reading to them everyday. As a result, our sons were early talkers and early readers.

However, our third son, Brandon had a very traumatic birth that left him with pre-frontal cortex damage and severe learning disabilities. As I studied different ways to help Brandon learn, I discovered that he, like so many children, loved and responded to music. So, I used musical games, rhymes, and songs to help him learn his school lessons. I also played classical music for him, and I taught him the piano. I was convinced that parts of his brain, rather than malfunctioning, were in need of the kind of exercise that one gets from studying a musical instrument.  It was true—music became the catalyst for him to process information.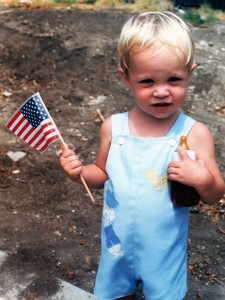 Something Fun: Marching Music:
One thing we did that really helped Brandon as well as our other sons was to play marching music for them. Let me explain:
Did you ever play in a marching band in high school? If so, do you remember what is was like to play an instrument and march to the beat of the music at the same time? In the beginning it is like patting your head and rubbing your stomach. However, with practice it is not only fun, but an act of impressive coordination.
However, marching to the beat of the music is more than an act of coordination. Similar to what happens to a baby's brain when learning to crawl on all fours, marching organizes the brain and gets it working in all 4 cylinders! As a result, it improves a child's ability to focus, concentrate and organize himself.  

So if you can't get your kids up and going in the morning, or if they have trouble focusing on their homework at night, try playing marching music and have them march to the beat of the drum as they go from task to task. It can help your children "stick to their tasks;" it can help them stay focused, and it will change the way your kids organize themselves.


In our family, we made it into a game. The boys woke up to marching music and whenever they moved—they marched with arms swinging and legs moving up and down—into the bathroom, making their beds, getting dressed, putting their schoolwork together and then downstairs to eat breakfast.  I know it sounds like I was running a military boot camp, but they remained organized and focused and we always left for school on time—plus it was just plain fun!
In the evening when your kids need to get their homework done—first have them march around the house to music for about ten minutes before settling down to homework. Again—this simple exercise will stimulate the brain; get it working on all 4 cylinders and make the homework process go smoother and easier. Try it and you will see what I mean!  
Seeing how music helped Brandon to learn, I began to seriously research the educational and brain benefits of music. It was a twenty + year journey. I then searched for a "how-to" book geared to parents on the benefits of music and finding nothing under one roof, I decided to write this book.  Kirkus, the largest independent book reviewer in the nation described it as: "A magnum opus, fact-filled and inspiring, on the benefits of music."
So, here is a small sampling of what you find in my book to help you and your child on your musical journey:
Why and how music builds a bigger, better brain

How to turn your home into a musical training center with ideas on musical games and activities for your children from

utero

through high school

Ideas to help the learning disabled child

How to choose an instrument and teacher, ideas to get kids to practice, and values learned from learning a musical instrument.

Resource Section:

The book also has an extensive 50-page Resource Section that includes list of music to play when children are studying to increase absorption, retention and retrieval of information, lists of books and DVDs about music, music to use when teaching subjects such as animals, nature, the solar system, etc. and music for every stage of your child's development.  
The book is easy-to-read and loaded with examples and stories that will excite and motivate you to get you and your kids involved with music!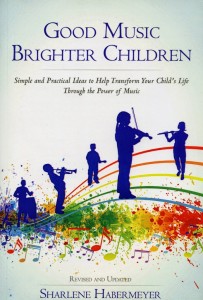 Where is Brandon today? Despite the dismal reports from doctors and psychologists when he was five, Brandon graduated with straight A's in his double major (film and philosophy) from BYU. Music was key to his ability to learn and process information.
So, that is me in a nutshell. Now, I want to hear about you—do you love music? Do you use music as a teaching-tool for your children? Do you or your children play a musical instrument? What has been YOUR musical journey?
I also blog about different aspects of music on Monday, Wednesday and Friday. Here is a sampling:
About Sharlene Habermeyer
:
Sharlene has a Bachelor's degree in Art from Utah State University and a Masters degree in Education from Pepperdine University, California.  She teaches college and in 1999, she started the Palos Verdes Regional Symphony Orchestra. It currently boasts over 100 musicians. She will be teaching at BYU Education Week August 18-22, 2014.