I love Girls Camp! A few days of being in the mountains, eating camp food, singing around the camp fire and feeling closer to God! I think everybody in the world should go to an LDS girls camp to see how amazing it is! Last year I was able to serve as assistant camper director in our ward. I'm pretty sure it's the best calling in the world because you're not actually the camp director, you're just there to help out with whatever is needed. Growing up I went to girls camp 9 years in a row, I haven't been back to the for 14 years until last year when my daughter was able to go for the first time. Sadly she was pretty sick the whole week which is not the most fun experience but she played happy and tried really hard to enjoy her time it. I can't wait for her to go again this next year, it can only get better, right?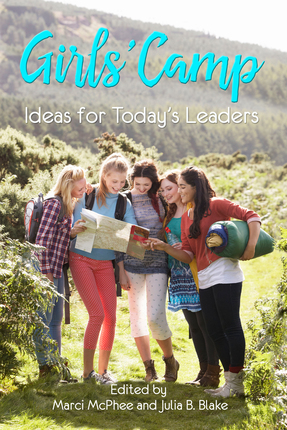 Girls Camp – Ideas for Today's Leaders
I was recently asked to review a book by Marci McPhee and Julia Blake called Girls Camp – Idea for Today's Leaders. I have to say I really enjoyed this book. It reminded me of my own years at Girls Camp. The book is a great book with lots of different ideas regarding girls camp. There are 9 chapters in the book, and each chapter has 3-5 different peoples perspective on what the subject of the chapter is about. For example there is a whole chapter of different styles of camps. Growing up we went to a camp up in the mountains where there was a lake but we couldn't swim in it we just got to have waterfront time which was canoes, there was a obstacle course area and we had tents and sometimes cabins. I have heard of other girls camps were they actually get to go to a pretty nice cabin area. The girls camp that I went to last year with my daughter was a bring your own tent camp. It was a little more rugged than what I grew up with, but both camps were a lot of fun. It doesn't matter what your girls camp looks like. It matters what the girls are doing and experiencing at camp. At the end of the book it has a page about the Young Women Camp Goals for the Church. If your girls are experiencing these, then it was a successful Girls Camp!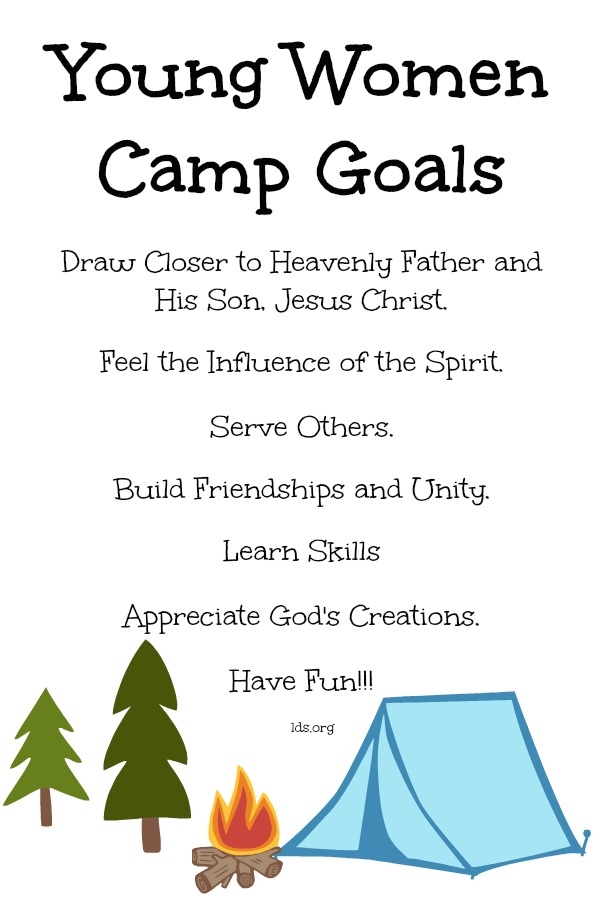 Like I mentioned, in each chapter there are a bunch of thoughts or opinions about what the chapter is about. There was a chapter all about encircling every girl, they talked about modesty and dress, they talked about helping people that have disabilities. The great thing about this book is it's just peoples opinions. So if you like it then you can try to utilize it in your own camp experience, if you disagree with it then that's okay. There were a couple things that I disagreed with when it came to modesty issues at girls camp but then again I have never been to a girls camp were kids were able to wear anything but pants and t shirts, and they didn't bring swimming suits.
My favorite chapter in the whole book was the chapter about Life Lessons Learned at Girls Camp. There were stories about camps that had to be changed because of rain or other circumstances. The story that caught my eye the most was called "Calming the storm the Lord's way at Girls' Camp". The camp director had planned an amazing camp and right before she left she asked her husband to give her a blessing. In the blessing he said, "if you are willing to drop your own perspective, you will see miracles." She was confused by what that meant but once she got up to camp it was a downpour the whole day, the next morning they woke up and everything was wet and miserable. She went on a little drive to pick somebody up at the base of the canyon and cried and called her husband saying how miserable camp had been. He responded and said, "The Lord has the power to clear the storm if his purposes were not being fulfilled at Camp. Obviously the Lord's purposes are being fulfilled up there, you just have to figure out where." When she got back to Camp she saw everybody under the Pavilion playing games together and enjoying each other's company despite the rain. She realized and said,
"canoeing, crafts, games… Are all fun and great, but I learned about what really mattered to the Lord and he used clouds and rain to show me. He has the power to calm the storm of that I am sure but when the storm stays it's only because the Lord's purposes are being fulfilled within it."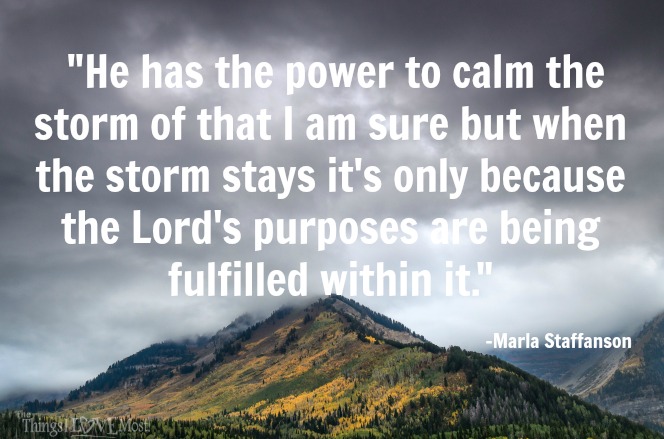 I thought that quote was amazing and can be applied to many things in our life. I would highly recommend this book for any camp director, assistant camp director, camp cook or Young Women's Presidency. The book has so many great ideas, it even has recipes for delicious food that you might be able to make up a camp. I went through it and marked all the ideas that I liked. I love that the book is a compilation of a lot of different opinions about how to make girls the most special and sacred experience for the young women of today! Girls camp is an amazing testimony building experience and I am excited for my daughter to be able to go again this next year, and hopefully one day I will be able to go back to girls came up with her!
Purchase –