Today felt like fall! FINALLY!!! The last few weeks have still been in the 100's and I was about to move to Hawaii! #kiddingnotkidding Seriously though, I love this time of year when you can be outside ALL. DAY. LONG and love it! We have had some crazy hot weather this August, and then this last week we had a bad fire on the mountain near my house, and then it started raining. It was just what we needed to calm the fire from spreading, and to cool us off and get us ready for a wonderful fall! This last week I have been into making all things fall….Like soup. One day I made two soups! My husband was a happy man! He loves soup! That same week, I must have been having a good week, because I decided it would be fun to come up with a fun crafty food to make with my kids! I wanted it to be a yummy and easy fall treat. That's when the idea came to make Halloween Pumpkin Caramel Apples!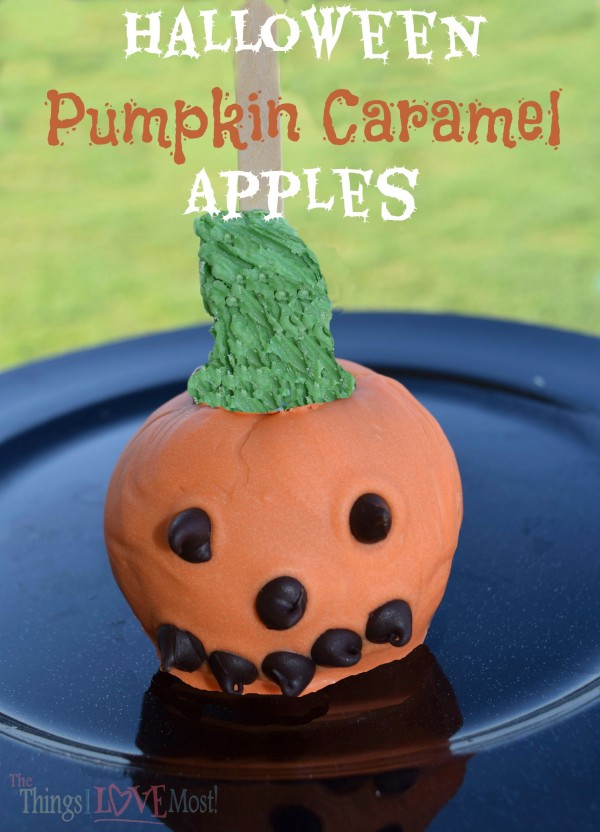 My kids were SO excited when I told them I was making them Caramel Apples for their Family Home Evening Treat! I'm not usually that fun when it comes to planning cutsie treats, but this was so fun to make and get the kids involved! I forgot to take a picture of what I used before we opened them and dumped them out, but all it was was these ingredients, plus 3 cubes of Almond Bark and 6 apples! (There was enough for 8 apples for sure!)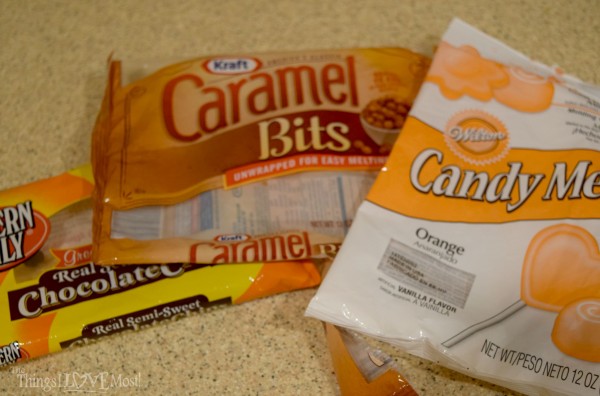 One reason I haven't loved making caramel apples is because unwrapping all the caramels is so annoying. I recently found the Kraft Caramel Bits at the store. I love using them when I have to make stuff out of caramel. They melt very fast on the stove on in the microwave by just adding a tablespoon or two of water. Also another tip that I wish I would have read about before I waisted a whole lot of Almond Bark, is that almond bark doesn't dye well with liquid food coloring. It starts to clump up and harden. It needs to be a powder or a paste food coloring. I couldn't find any at my store, so I ended up buying orange candy melts, which worked even better!!
Halloween Pumpkin Caramel Apples
Start by melting the caramel over the stove top. Once Caramel is melted dip apple (with stick on it) in caramel and spoon caramel over it.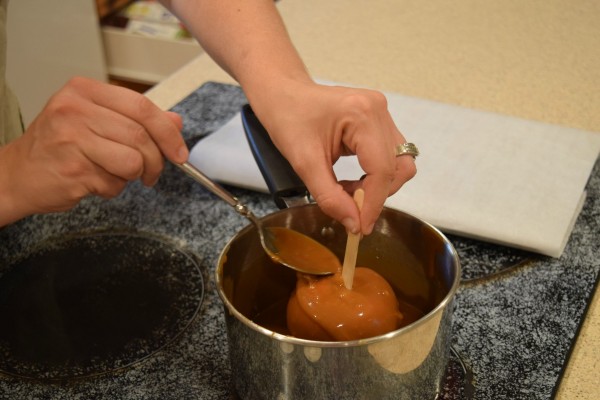 Let sit in fridge for an hour to set!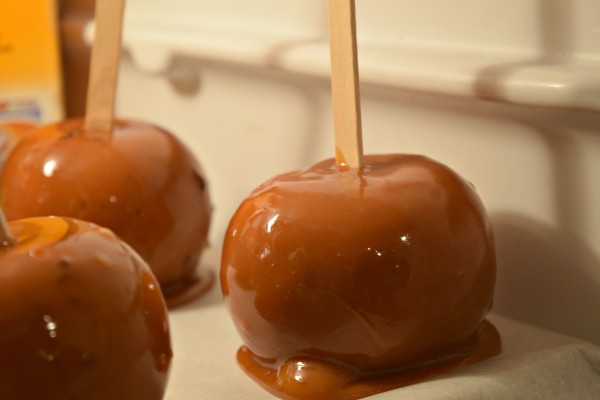 While waiting, melt 3 white Almond bark squares in the microwave, add green food coloring. (This did clump up, but it was fine because I needed them to be thick and be able to shape them to look like a stem. Used a fork to make the stem lines. Place the chocolate in the freezer to harden.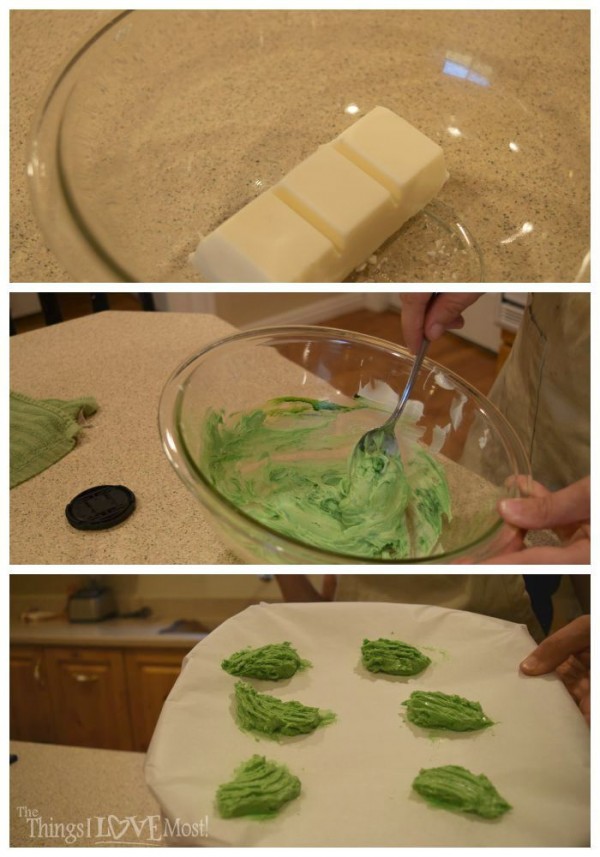 Ones your apples are done, you might need to cut away a little caramel that flattened around the bottom, or smash it around the apple to make it look more round!
Melt the Wilton Orange Chocolate melts in the microwave in 30 second increments and stir in between. Dip apple and let the bottom drip off. It might flatten out a little on the plate when you put them in the fridge, but they will still be cute! Quickly make a face with the chocolate chips and place in fridge for another hour!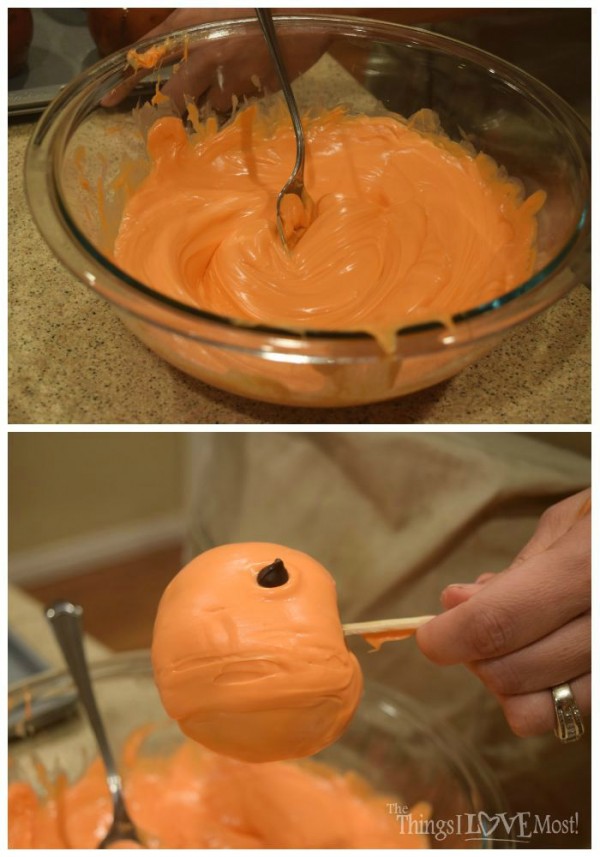 The kids and I had a lot of fun making these…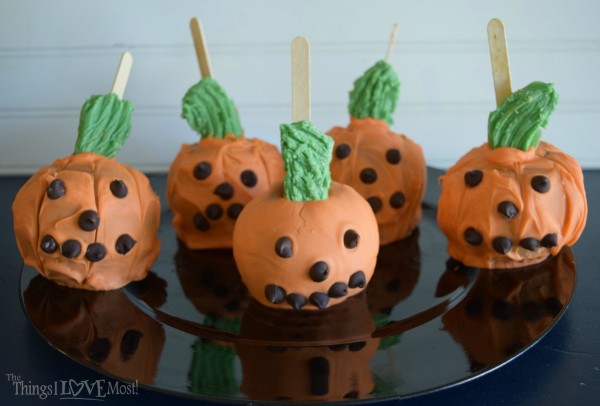 And Eating them!!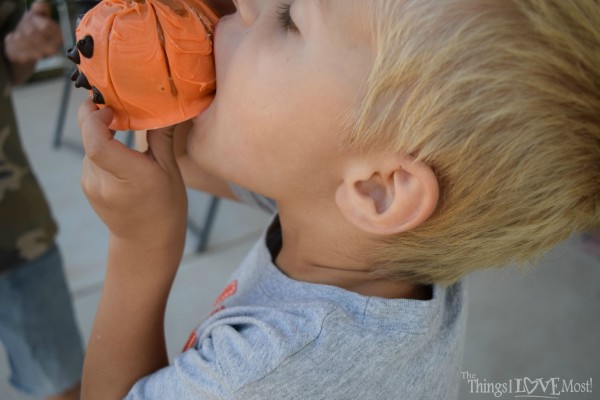 And wrapping one up and taking it to our neighbors!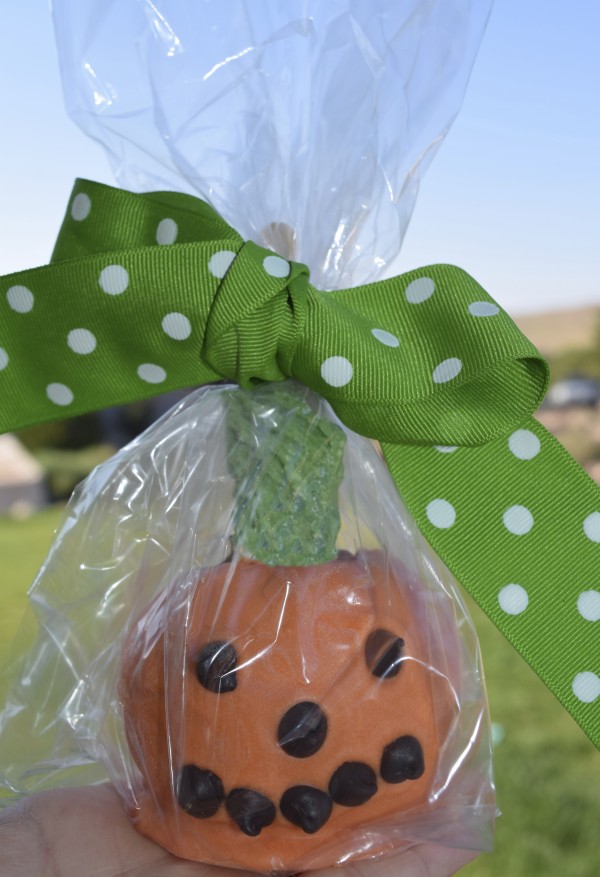 What is your favorite fall treat?

Check out more of my favorite fall recipes…