Updated for 2016
A couple of weeks ago our friends invited us over for family night. Before we let the kids run and play they had a fun little lesson to help us get ready for General Conference! If you don't know what that is it is you can read more about it here. He had his ipad and went to this site on LDS.org. It is an great site you can go and learn more about each of the general authorities.
Here is how to play: Divide into teams and the person in charge reads out clues about one of the General Authorities. It can be a story, where they served their mission, where they were born, etc. Each team can yell out the answer, but if you are wrong your team can't answer until the other team has a chance. If the other team guesses wrong both teams can try to answer again. If no one is getting it you can give them the chance to listen to their voice by clicking on First Presidency Messages on the left hand side and clicking on a talk by that General Authority.
It was a really fun game, and the kids seemed to really enjoy it. It's always fun to read more about the lives of these great men who serve so faithfully. I do think it would have been a little easier had we had their names and faces in front of us. I decided to make this up so that if we ever played this game again we would have all of their names in front of us and could mark off the ones we already answered. I am also going to use this handout to cut out the faces for my Conference Fun Bags.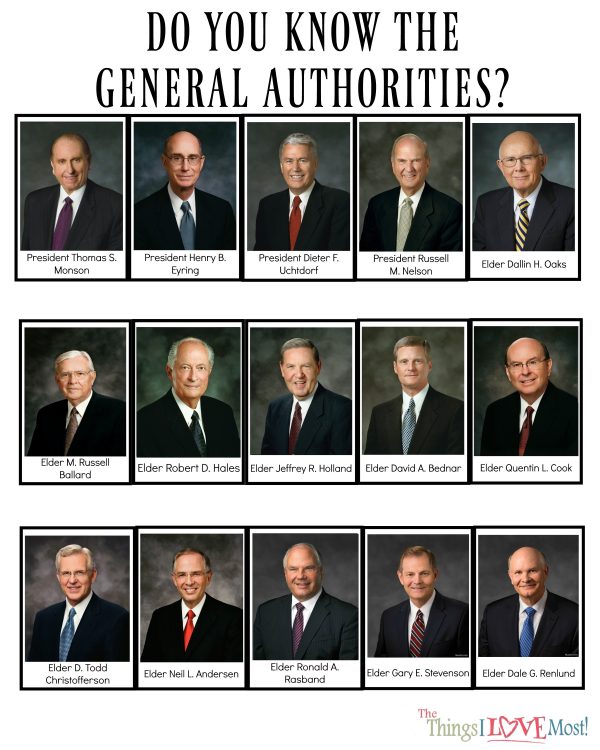 Right Click to Save image and print!